LUNAFEST: Tuesday, April 20
Enjoy 10 short films by acclaimed women directors from around the world at Seattle's Broadway Performance Hall on Tuesday, April 20 at 5:30 pm.
Complimentary appetizers and drinks
Chocolate tasting
Free raffle ticket for a 10 day trip to Costa Rica
Shorts created by Reel Grrls teens
Proceeds benefit Reel Grrls and the Breast Cancer Fund.
Reception at 5:30 pm, screening at 6:30 pm
$20 general admission/$15 student. Tickets available at www.reelgrrls.org/lunafest
Awesome Movies You Never Knew Were Directed by Women
Wednesdays, April 28, May 5 and May 12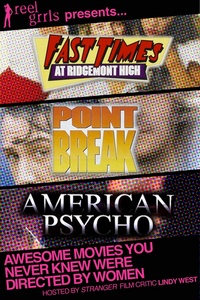 Women have been directing films since the earliest zoetropes and have contributed to every genre in the industry. Join us at the Central Cinema for any or all of these non-chick flicks and enjoy post-screening discussions with our host Lindy West of The Stranger.
Point Break April 28 - An FBI agent goes undercover to catch a gang of surfing bank robbers in this 1991 film favorite directed by Kathryn Bigelow, 2009 Academy Award winner for Best Director (starring Keanu Reeves and Patrick Swayze).
American Psycho May 5 - Christian Bale stars in this horrifying tale of a wealthy New York investment banking executive with an alternate psychopathic ego. Directed by Mary Harron.
Fast Times at Ridgemont High May 12 - Amy Heckerling's 1982 classic tale of a group of California teenagers navigating malls, sex and rock n' roll.
All screenings at 7 pm Beer, wine and dining options available from the Central Cinema.
$10 individual tickets, $20 series pass (net proceeds benefit Reel Grrls).
Tickets available at www.central-cinema.com
Reel Grrls Spring Showcase: May 16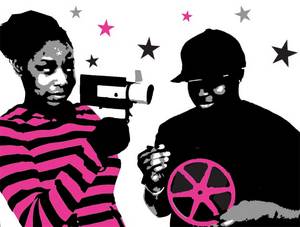 This is the best opportunity all year to take in the latest films created by girls ages 9 to 19 in our 2009-2010 program. Enjoy a wide array of styles including animation, music video, autobiography and narrative. Come show your support for the first year-round filmmaking program exclusively for girls.
When: Sunday May 16th, 4:00 pm
Where: Market Theatre, 1428 Post Alley, Seattle 98101
How Much: $10 adult/19 and under free.
Tickets: www.reelgrrls.org/showcase